Kate Middleton's Stunning Lover's Knot Tiara Has a Fascinating Royal History
The sparkling pearl heirloom was a favorite of Princess Diana.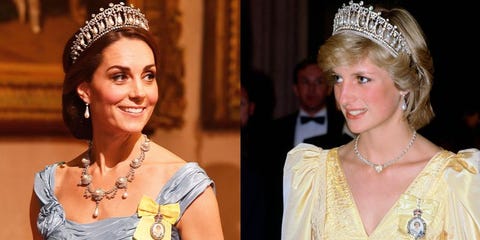 Once again, Duchess Kate was spotted wearing one of Princess Diana's favorite tiaras while at the state banquet tonight at Buckingham Palace.
The sparkler is quickly becoming Kate's go-to tiara. While tonight she paired the topper with the Queen Mother's sapphire and diamond fringe earrings and her new royal order, she has previously worn it with an icy blue Alexander McQueen gown and a plunging blush-colored Marchesa dress, among other ensembles.
One of Diana's most iconic pieces, the diadem obviously holds sentimental value for the Duchess of Cambridge, but it also has an amazing royal history. Sometimes referred to as the Cambridge Lover's Knot, the topper is, in fact, a replica of an earlier tiara.
The piece of jewelry Kate wears was created for Queen Mary in 1914 by the House of Garrard from pearls and diamonds already owned by her family. Mary modeled after her grandmother Princess Augusta of Hesse's headpiece, the original Cambridge Lover's Knot Tiara, which is currently thought to be held in an unknown private collection.
According to the Court Jeweller, when Queen Mary commissioned the piece, she "sacrificed a tiara from her own jewelry collection, the Ladies of England Tiara, to make it."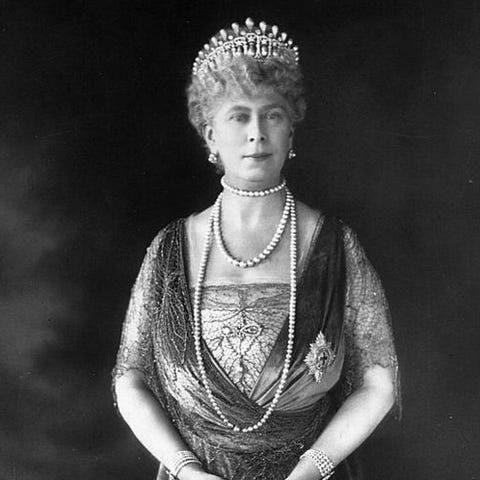 Queen Mary wearing the Lover's Knot Tiara.
GETTY IMAGES
---